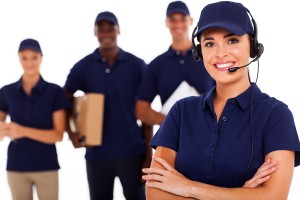 Millions of people in America are required to wear uniforms for their job. One of the most efficient ways to ensure that your company maintains a quality standard and consistency for their uniforms is to use a uniform rental service.
Uniform Nations has a local provider that can rent and deliver clean, pressed uniforms as often as your company needs them. All items are professionally laundered, and in most cases replaced if they're ripped or damaged in any way.
To accommodate your ever growing and changing staff, they also offer easy to manage size changes, no-hassle inventory changes, name tag replacement and more.
Our local providers deliver your clean uniforms and pick up your soiled uniforms as often as you need them to. No matter what program you choose, Uniform Nations has a provider right in your area that can provide regular service as often as required.
Here's Why Uniform Nations' Process Works:
We'll connect you with a local provider that can tailor a quote for your needs.
Our goal is to get a quote in your hands as fast as possible. Within minutes, your information is in our contractor's hands.
Our service is 100% free! No obligations other than the understanding that someone will be contacting you shortly.
To get started, fill out the form to the right, or just give us a call today at (866) 467-4178.
Uniform Rental and Delivery For Any Industry
Do you have specific requirements or a look and feel that you want for your industry? Uniform Nations can help you find a local company that can help you find the uniform rental and delivery program that you need. Here are just a few of the industries that we serve- click on the title or image to learn more.
If you have questions (or know what you want) fill out the form to the right, or give us a call at (866) 467-4178.
Our local contractors can help you find affordable solutions for medical scrubs, lab coats, nurse uniforms, and any other hospital uniform
.
Let Uniform Nations connect you with a provider to set up uniform rental program for your cooks, servers, hosts, and more.
From shop towels to uniforms for your mechanics and front desk personnel, Uniform Nations can find a local solution for you quickly and easily.
Hotels live and die on their reputation. From front desk uniforms to chef coats, Uniform Nations has you covered.
Keep your staff looking sharp with a professional uniform service. All delivered uniforms are clean, pressed, and ready to go.
Do you have a special request or a specific requirement for your business or industry? We can help you with that too!
Uniform Nations caters to any size company to help them find the uniform rental program that works best for their business. Get a free quote today!
Get Free Quotes on A Uniform Rental Service Today!
Uniform Nations has a network of Uniform Service providers for uniform rental. We're an expert in connecting you to a local provider that offers a comprehensive service line for the things you need quickly.
To request a free quote, fill out the form to the right, or give us a call at (866) 467-4178. Within minutes of receiving your request, you will have free quotes from a local uniform service professional in your area that can help you with your project.