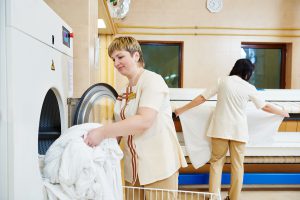 Whether you work in a medical office or in a kitchen, your employee's uniforms are bound to get dirty. Uniform Nations can connect you with a uniform company that allows you to eliminate multiple services and streamline your uniforms program.
Our local providers offer a comprehensive service that includes pickup and delivery. They'll clean, sanitize, press and deliver any amount of uniforms at any interval you need.
All of our contractors follow guidelines as well as all other standards that need to be met for your industry. Keep you employees looking great and make a great impression with a local provider today!
The Benefits of Using a Uniform Laundry Service
We want to connect you with an affordable local provider that can save you time and money and keep you employees looking great.
From purchasing equipment to having your employees take care of their own soiled uniforms, we understand that there are lots of choices for your laundry service. Luckily, using an uniform laundry service is not only easy—it's affordable.
Here are some of the biggest reasons outsourcing uniform laundry service makes sense for your business.
It saves you time
Any size business needs to have an efficient, time-sensitive way to ensure their employees have clean, laundered uniforms. Having your employees wash their own uniforms or investing in equipment to launder uniforms onsite creates inconsistent looks, increased energy bills, and management headaches.
Outsourcing your uniform laundry service will ensure you have what you need, when you need it- and you can ensure you have a consistent look and quality uniforms at all times.
It saves you money
Laundering uniforms can be tremendously expensive. Not only are there increased operational costs (higher utility bills, water bills, and capital investments to install and maintain equipment), there's also the time and labor it takes to launder, press, fold, and hang your uniforms.
Time is money- uniform laundry services are efficient, affordable, and relatively hassle-free. They'll deliver your clean uniforms as often as you need them.
It's easier to control compliance issues
Certain industries have specific, mandated requirements for laundering their uniforms. From OSHA to to HIPAA, ensuring that your company is in compliance when laundering their uniforms is something that needs to be managed properly.
Don't risk the chance of heavy fines or exposing your employees, customers, and patients to hazardous materials or diseases through improper cleaning methods.
Here's Why Uniform Nations' Process Works:
We'll connect you with a local provider that can tailor a quote for your needs.
Our goal is to get a quote in your hands as fast as possible. Within minutes, your information is in our contractor's hands.
Our service is 100% free! No obligations other than the understanding that someone will be contacting you shortly.
To get started, fill out the form to the right, or just give us a call today at (866) 467-4178.
Get Free Quotes on Uniform Laundry Services Today
Let Uniform Nations help you find a commercial laundry service that works with your existing uniform rental or purchase program. If you need the complete setup, we also offer free quotes on uniform rental and delivery, or can connect you with a local provider to purchase your uniforms today!
Our experts can help answer any of your questions you have, and get you connected with the service that's exactly what you need.
To get started, fill out the form to the right, or just give us a call at (866) 467-4178. Within minutes of receiving your request, you will have free quotes from experts in your area that can help you.