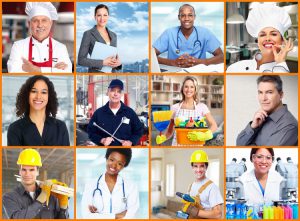 You always want to have your employees looking their best to help make a great first impression and to stand out from the crowd.
Let Uniform Nations help your business find a professional uniform service that works best for your company.
We make finding a new provider or replacing your current uniform program painless. No matter what service you need, Uniform Nations can help- we also offer free quotes on linen services, and can service virtually any industry. Get free quotes today!
Here's Why Our Process Works:
We'll connect you with a local provider that can tailor a quote to your needs.
Our goal is to get a quote in your hands as fast as possible. Within minutes, your information is in our contractor's hands.
Our service is 100% free! No obligations other than the understanding that someone will be contacting you shortly.
Nationwide Uniform Rental and Delivery Services
From renting to purchasing uniforms, we have a nationwide network of uniform service providers that can customize a program for you. We offer a full line of services that include:
Rent or Lease Uniforms For Your Company- We Service Any Industry Nationwide.
Have Your Rented or Purchased Uniforms Laundered, Ironed, Folded & Delivered.
From Custom Embroidery to Individual Style, we'll help you find affordable uniforms that fit your needs.
Uniform Nations will help you manage your uniform program better- get a free quote on your service today!
Get Free Quotes on Uniform Rental, Delivery, & Laundry Service
Uniform Nations has a network of Uniform Service providers for uniform delivery, uniform rental, and uniform laundry services. We're an expert in connecting you to a local provider that offers a comprehensive service line for the things you need quickly.
To request a free quote, fill out the form to the right, or give us a call at (866) 467-4178. Within minutes of receiving your request, you will have free quotes from a local uniform service professional in your area that can help you with your project.