Reliable Bathrobe Laundry Services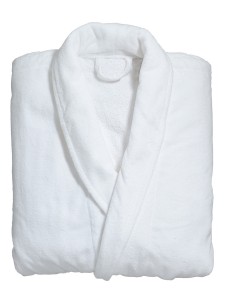 One thing that people love about staying in hotels is the luxury that comes with staying somewhere other than their home.
There's one thing you always think about when you are thinking about a luxurious hotel- the bathrobes!
Everyone likes walking around in a bathrobe in their hotel room while they are on vacation.  When you look at the bathrobes from the hotels standpoint though, it is a little bit different.
It is one more thing that you have to clean after each visitor leaves.  There are so many things to consider when running a successful hotel that it can be a pain to have to worry about the laundry.
That just happens to be one of the most important parts of being successful- we have all heard the horror stories behind dirty hotels- nobody wants to be on that list.
That's where Uniform Nations can help you with your bathrobe laundry services.  Instead of stressing over laundering and maintaining those luxurious bathrobes that you carry to accommodate your guests, let us take care of everything for you.
Our local service providers will set up a convenient schedule to come out and take all of your soiled bathrobes and replace them with fresh, clean ones.
Keep your guests happy while streamlining your rental services and get help when you need it!  Let us handle your bathrobes so that you can get back to the other important parts of your job.
Get FREE Quotes on Bathrobe Laundry and Delivery Services Today!
Let us know exactly what you are looking for and we can help you find the right service to help your company.  To get started, fill out the form to the right, or just give us a call today at (866) 467-4178.
Within minutes of receiving your request, you will have free quotes from experts in your area that can help you.