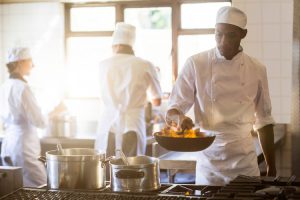 Between both helping to define a company as well as protect employees, uniforms have plenty to offer restaurants.
However, to get the most of your uniforms, it's important restaurant owners ensure various factors like safety, appearance, and functionality are all considered when searching for uniforms in order be sure all bases are covered.
Check out this White Paper for guidance on finding and selecting the ideal uniform service to suit your restaurant's needs, as well as more in-depth details on restaurant uniforms today:
From upscale eateries to corner cafés, restaurant uniforms offer advantages to all businesses which extend beyond merely making a fashion statement.
Breaking out the essential components and purposes to modern restaurant uniforms, this in-depth white paper explores benefits uniforms offer to restaurants ranging from marketing appeal to employee protection.
Supplementary Materials
Interested in learning more about restaurant uniforms and uniform services? Check out the additional articles, infographics, and related videos below:
Restaurants have to be running at optimal efficiency to produce a positive experience for their guests. Outfitting your kitchen staff in supportive, well-designed uniforms will increase productivity and reduce accidents. Learn via infographic how uniforms provide safety and functionality, and how they can solidify an appropriate appearance for your restaurant.
The uniforms employees in different industries often wear do more than provide a consistent appearance for your workers—these industry-specific uniforms can help to protect employees from the hazards they encounter in their everyday work. Get the breakdown on uniforms unique to industries and their protective benefits here.
Restaurant employees are constantly running at full speed. The kitchen can be a hectic, and sometimes dangerous place. Uniforms can help protect kitchen staff from the dangerous activities they engage in on a daily basis. Watch this video to learn tips on how to design your kitchen staff's uniforms for ultimate safety.
Uniforms serve many purposes aside from just looking good. In the restaurant business, front and back of the house employees wear very different uniforms, but each serve specific functions. Learn more about the underlying reasons why restaurants wear uniforms here.
In Search of Uniforms for Your Restaurant? Get Free Quotes on Uniform Services In Your Area!
Selecting the right uniforms can be a difference-maker for restaurants, and at Uniform Nations, we provide the restaurant uniform services businesses require to suit their employee presentation and protection needs.
For more information on uniform purchase and rental services, or to begin comparing quotes from restaurant uniform providers near you, simply give us a call at (866) 467-4178, or just fill out the form to your right to get free restaurant uniform quotes today!