OSHA handed down new rules that took effect on January 17, 2017 requiring employers to adhere to tougher standards when it comes to the use and maintenance of floor mats. A great way to ensure that your company adheres to these new rules is to use a mat rental service. You can read more about how the OSHA requirements have changed HERE.
If you think about it, you will see floor mats in virtually every business you enter and in every commercial kitchen. Floor mats are one of the easiest and affordable ways to protect your business, patrons, and employees.
Uniform Nations offers any kind of mat that you need through our nationwide network of service providers.
From entryway mats to slip-resistant mats for kitchens, we have a company that can set up a custom rental program for your specific requirements and needs.
Keep Your Employees Safe With A Slip-Resistant Floor Mat
If you have employees that are on their feet all day, a quality, non-slip mats can help increase productivity.Making sure you have clean, slip-resistant mats prevent slip and fall accidents and help you comply with ANSI regulations.
Taking the time to find a quality mat service now could prevent an unexpected accident (and potential lawsuit). Get a free quote from Uniform Nations today!
Quality Floor Mats Can Keep Your Business Clean
Floor mats prevent dirt, grime and moisture from being tracked into your building. Did you know that:
70-80% of the dust, dirt and grime in public buildings is tracked in from the outside and spread throughout the floors.
30% of the dirt tracked in is trapped in the first 3 feet of a typical mat, 85% of the dirt gets trapped within a 15-foot length of typical matting.
Up to 24 pounds of dirt can be tracked in by just 1,000 people coming through an entrance over a 20-day work period.
(Source: International Sanitary Supply Association)
Uniform Nations' network of local providers offer virtually any size floor mat for your business' entry points. Eliminate risk and reduce maintenance costs for cleaning, waxing, and sanitizing your carpet or tile with a professional mat rental service.
Affordable Mat Rental and Laundering Service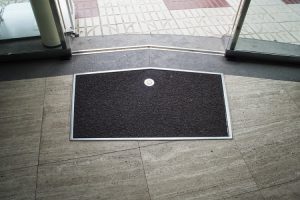 Uniform Nations partners with local facility and linen providers throughout the country that offer full-service mat rental for any size business.
Let Uniform Nations connect you with a reliable company that can set up a schedule that works for your business,.
They can help you with delivery & laundering for a free, no obligation quote for your service within minutes!
Get Free Quotes on a Mat Rental Service Today!
If you're looking for a service to handle your floor mats, Uniform Nations is here to help! Let us know exactly what you are looking for and we can help you find the right service to help you manage your mat rental and laundering more efficiently and affordably.
Here's Why Uniform Nations' Process Works:
We'll connect you with a local provider that can tailor a quote for your needs.
Our goal is to get a quote in your hands as fast as possible. Within minutes, your information is in our contractor's hands.
Our service is 100% free! No obligations other than the understanding that someone will be contacting you shortly.
To get started, fill out the form to the right, or just give us a call today at (866) 467-4178.
Within minutes of receiving your request, you will have free quotes from experts in your area that will provide a no-obligation quote for your mat rental program.