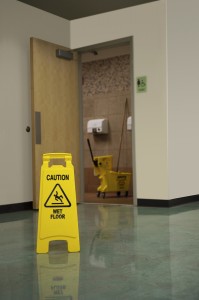 Making sure your business runs smoothly comes with plenty of responsibilities.  You have to make sure all of your paperwork is handled correctly, your employees are taken care of, and your clientele are as happy as possible.
One thing that can slip through the cracks is regular restroom cleaning.  When there's a million things going on, it can be very easy to forget something so trivial.
Uniform Nations' commercial restroom cleaning can help you out.  Once you select a service provider and schedule, we'll handle the rest.  A reliable, local contractor will come and clean your restrooms as often as you need them to.
We take the time to give you a customized quote to make sure we work around what you need for your location(s).
Whether you have many or few bathrooms per facility, or you need us to come at a certain time, we are available whenever you need us.
Making sure your facility stays sanitary may not be at the top of your list of priorities, but it is still an extremely important part of running a successful business.
If you are at a standstill with your restroom cleaning and are ready to have professionals take over for you, then we're ready to help!
Get FREE Quotes on Commercial Restroom Cleaning Services Today!
Let us know exactly what you are looking for and we can help you find the right service to help you manage your facility better!  To get started, fill out the form to the right, or just give us a call today at (866) 467-4178.
Within minutes of receiving your request, you will have free quotes from experts in your area that can help you.