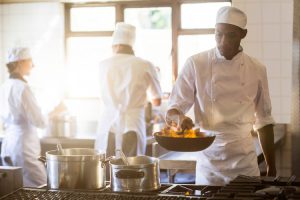 Keeping up with a busy kitchen can be a struggle. You not only have to make sure that you have all of the necessary food to keep your business going.
You also have to handle all inventory on the kitchen supplies & all of the paperwork for the business.
One thing that may slip through the cracks is your restaurant's kitchen staff uniforms. It is essential to make sure that your staff have uniforms, not just for the look of your business but also for their protection.
It can be a dangerous job working in a kitchen, however with the protections non-slip, rubber-soled shoes and flame-resistant aprons, chef jackets, or shirts can provide, it may just be the difference between a small incident and a trip to the emergency room.
It also makes your restaurant look better when your employees look well put together. The nice thing about our service is that you are actually able to buy the uniforms as opposed to having to rent them. This is one less responsibility that you have to worry about which is always a good thing.
If you have any questions about what we can help with or about our services in general, give us a call. We are here to help in any way we can!
Get FREE quotes on purchasing Kitchen Staff Uniforms Today!
Buy uniforms for your employees to keep them looking their best every day. Find out if purchasing your kitchen uniforms is the right solution for you.
If you'd like a free no hassle quote, fill out the form to the right, or just give us a call today at (866) 467-4178.
Within minutes of receiving your request, you will have free quotes from experts in your area that can help you.