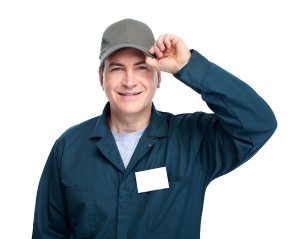 Being a mechanic can be a dangerous job choice.  You can have hot oil drip onto you or metal chips thrown at you.
This is why it is important to always keep yourself as protected as possible.
One way to ensure you are doing the best you can with your employee's safety is by making sure they are always wearing mechanic uniforms.
Mechanic uniforms are made specifically to protect as well as a uniform can.
There is an added level of security in a mechanic's uniform that does not come with any other uniform.
Not only does the uniform have to be thicker to protect from the hazards of an auto shop, you also have to be able to move around in it freely so it cannot be too thick.
Making sure that you have uniforms can be a process. Luckily, we are here to help you!
We make it so that you can purchase your uniforms as opposed to renting them causing someone come to your location every week.
Purchasing uniforms are convenient because you are able to give your employees their uniforms and they can take care of the rest.  It's one less thing you need to worry about!
Get FREE quotes on purchasing Auto Mechanic Uniforms Today!
Buy uniforms for your employees to keep them looking their best every day. Find out if purchasing your auto mechanic uniforms is the right solution for you.
If you'd like a free no hassle quote, fill out the form to the right, or just give us a call today at (866) 467-4178.
Within minutes of receiving your request, you will have free quotes from experts in your area that can help you.