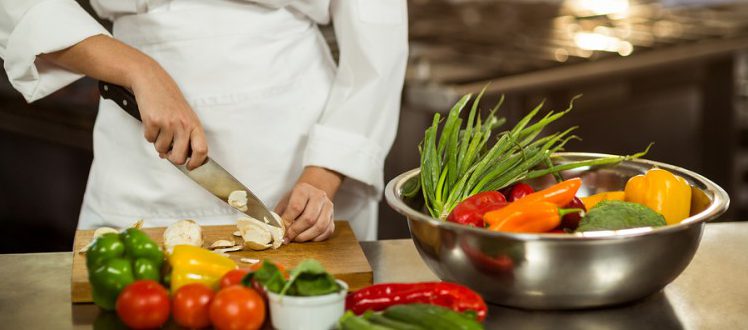 When it comes to restaurants, uniforms provide much more than style. Kitchen uniforms have specially designed features to keep staff safe from the dangers of working in a fast paced environment.
Whether it's open flames, hot pots and trays, liquid spills, or dangers from working with knives, kitchen staff are especially at risk while on the job. Dressing your kitchen staff in carefully crafted uniforms can help increase productivity while reducing accidents.
How Do Kitchen Uniforms Protect Employees?
From footwear to head coverings, every piece of clothing worn by the kitchen staff should be designed with purpose. Check out the video below from Landscape Safety to learn more about the features built into kitchen uniforms:
The main takeaways from this video are:
Specialized Shoes – When you are choosing what footwear your kitchen staff should be wearing, make sure it includes the following features:
Comfortable
Durable material
Close toed
No slip
Non-absorbent
Overall, look for shoes that offer protection from slips, spills burning feet, and falling heavy objects such as knives.
Fitted Attire – As far as the outfit your kitchen staff should wear, make sure it meets the following requirements to optimize safety:
Clean
Not too tight or lose
Avoid short sleeve shirts to minimize arm exposure
Avoid cuffs on sleeves and pant legs that can trap spills
Provide a cap or hair restraint to contain hair
Long hair should be pulled back, and facial hair either covered or kept neat and trimmed
When it comes to kitchen clothing, make sure your employees have clothing that keeps them cool and allows them to easily move around, while remaining covered to prevent burns, cuts, and scrapes.
Need to Rent or Purchase Safe Uniforms for you Kitchen Staff? Let Uniform Nations Help!
A staff dressed in uniforms built specifically to aid in the completion of their daily tasks will be productive and safe. Often underestimated, uniforms can make a large impact on the day to day functions of your restaurant. Uniform Nations understands the value of a good uniform, and will help your business look and work its best!
We work with local laundry services, as well as kitchen uniform providers across the country. Whether you are looking to rent or buy, our partners provide top quality uniforms to keep your employees looking fresh.
Call us today at (866) 467-4178 or fill out the form on the right, and we will quickly connect you to our network of providers and get you several priced options on local services for FREE.