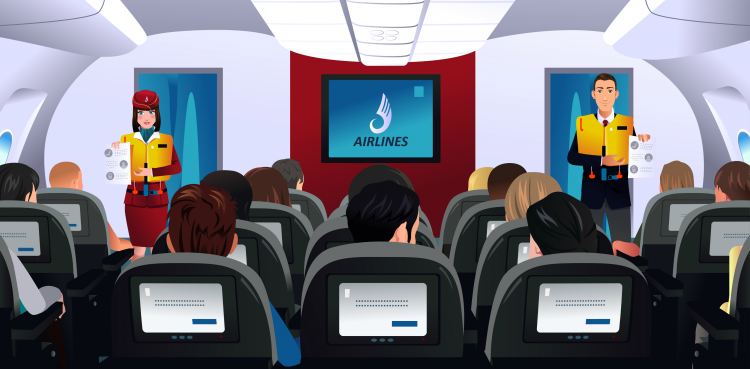 You probably don't notice the difference in airline uniforms from one airport to the next. But for those working in the travel industry, having the right airline uniform is the difference between having happy or upset employees.
Several articles have surfaced online about recent airline uniforms transforming in style, but failing in functionality. Take American Airlines for example. For the first time in 30 years American Airlines introduced a new uniform for all employees.
It was also the first time its flight attendants would all appear the same after its merge with U.S. Airways – an excellent achievement in brand consistency.
However, as stated in Fortune, more than 400 flight attendants have complained about having adverse reactions to the new clothes – including headaches and breaking out in hives.
What might have seemed like a step in the right direction for improving and updating its brand turned into a public relations nightmare in figuring out why the uniforms caused issues for American Airline's employees.
Why It's Important for Airline Uniforms to be Functional vs. Stylish
Imagine having to work on your feet over the course of a 12 hour shift. Now imagine having to do that while flying on an airplane with an unsteady ground. Not to mention, there is limited space to sit down and relax for a moment.
Airline attendants have a difficult job keeping flyers happy and comfortable. Often times, they don't have the ability to think about their own level of comfort.
Having the right airline uniforms helps employees get through their flight schedules, and allows them to concentrate on the flight's attendees rather than their level of comfort.
Airlines Using the Right Uniforms
Not all airlines are making the same mistake as American Airlines. Delta recently debuted new uniforms for its 60,000+ employees with great success.
As reported by CNN Money, these new airline uniforms would be for all employees ranging from flight attendants to technical employees.
The success behind Delta's uniforms has come at large to understanding that functionality should come first. Style is a plus and will make employees happy as long as functionality is accomplished.
Need Help Finding Functional Uniforms For Your Business or Industry?
Whether you own a restaurant, hotel or healthcare profession, functionality of your employee uniforms is important. At Uniform Nations, we can help you find the best uniforms provider in your area to meet these functionality and style needs.
It's simple and free, so what's stopping you? Just contact us at (866) 467-4178 or fill out the form on this page to receive free quotes instantly!