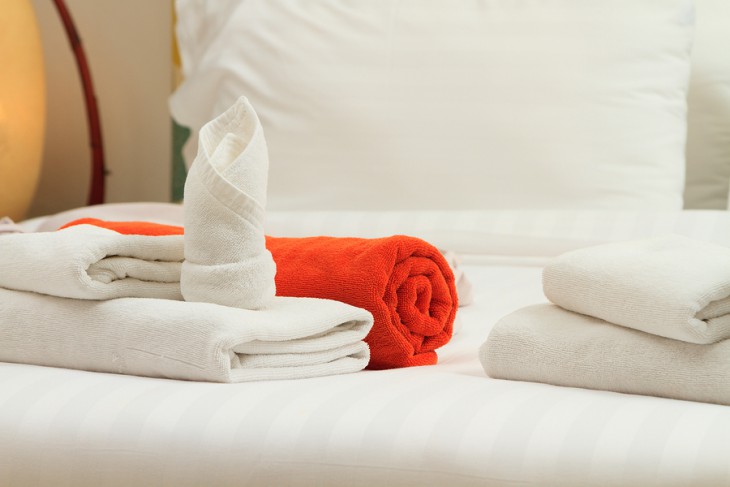 As an individual begins planning for an upcoming weekend trip or extended vacation, one of the first things they seek to do is find somewhere they can stay during their visit.
But how could someone tell if the hotel they're considering booking a room at is either way out of their budget range or far below the quality they were expecting?
With the help of hotel star ratings, these systems work to assess the overall quality of hotels and serve as general guidelines for guests to give them an idea of what to expect when making a reservation.
Here we provide a breakdown of how considerations like room linens and furnishings can factor into a hotel's star rating—outlining not just the differences between each category, but also highlighting optimal linen management strategies for the various grades of hotels.
Where Do Linens Fit-In With Hotel Star Ratings?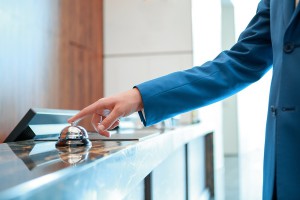 Hospitality star ratings are commonly used to give potential guests some degree of measurement for what they can expect from the different hotels and motels they consider.
Although specific amenities tend to vary based on the individual establishment, standard features like hotel linen selections are usually fairly standard for each category.
The following is a breakdown of 1–5 star hospitality ratings and how a company's linen choices can factor into a rating:
Five Stars
These top-flight establishments only offer the highest-quality services and accommodations for guests. Besides stylish furniture and decoration in each room, five-star hotels will also provide high-quality linens for their rooms that may be embroidered with the brand name and uniquely folded for a personal touch.
Four Stars
Typically large, formal hotels with above-average reception areas and front desk or bellhop services fall into the four-star category. While rooms will not be furnished as elegantly, guests can still expect these establishments to provide sheets, towels, and washcloths made from quality materials.
Three Stars
A mid-range option with decorated lobbies and standard features like pools and fitness centers, three-star hotels usually do not offer amenities like bellhop service, room service, or valet parking. Rooms are typically well-decorated, however quality of linens used can vary depending on which features the hotel chooses to market to guests.
Two Stars
Usually smaller hotels, two-star establishments tend to provide a more personal atmosphere. While the majority will not have a restaurant onsite, some will provide buffet-style continental breakfasts. Guests can expect room furnishings and linens to be clean, but simple and made with basic materials.
One Star
Independent hotels and small, low-end chains emphasizing consistency, affordability, and a personal atmosphere typically fall into this category. Establishments will usually provide basic features like telephones, TVs, and internet. Like other small hotels, linens and furnishing is generally neat and clean, but doesn't extend beyond the standard.
So How Can Linen Services Help?
If as a hotel owner you find yourself wondering how you can improve the star rating of your establishment or how to best meet the existing linen needs of your current star rating, consider options like linen rental or purchase services.
Buying Linens
For hotels rated 3 stars and above, the presentation of your rooms and other amenities can be just as essential to attracting customers and generating revenue as the features you offer.
With this in mind, these establishments may want to initially hesitate when considering renting their linens, and instead look into purchasing their linens outright.
The majority of rental providers utilize lower-quality linens to maximize value, meaning that to get the high-quality materials and branding you need, it's often better to invest in your own.
Furthermore, in a multi-year agreement with a rental contractor, providers do not replace your linens if they become faded, which is the unfortunate reality of washing materials over time. As a result, the best bet for 3–5 star hotels is to avoid the contract and give themselves the opportunity to always maintain a fresh and clean-cut image.
Renting Linens
While professional presentation is essential to hotels and businesses of all shapes and size, having a high-end image—and the high-end linens such an image requires—isn't how 1–2 star hotels pay their bills.
Considering the alternative, "affordability over luxury" strategy of these establishments, they can easily get by with providing linens and furnishings made with basic materials—leaving linen rental services as the most cost-efficient option for obtaining supplies.
With rental, a one or two-star hotel can maximize its own profits with the ability to cut out the additional costs of managing cleaning linens, as rental companies handle laundry as part of their included services.
Additionally, space and money that may have been invested in facilities and labor for laundry can be alternatively used to build more revenue-producing rooms—after all, the strategy is quantity over quality.
Get Free, No-Obligation Quotes on Top Linen Services Today!
Hospitality star ratings cover a wide range of hotels of various shapes, sizes, and qualities, but regardless of their rating or differences, all hotels must have a plan for how they will manage their linen needs.
With Uniform Nations, hotels and motels nationwide have access to our network of the top linen purchase and rental service providers who can offer the linens and laundry services you want at the quality or price you need.
Learn more about any of our available linen, uniform, and laundry services, or get started scheduling with a linen provider in your area today—just give us a call at (866) 467-4178, or simply fill out the form to your right to get free quotes on linen services!
Additional Resources
Besides word of mouth, when searching for hotels one of the best methods for getting an idea of the quality of options is through hotel star ratings. But what do these ratings mean? Learn about the specific considerations included in star ratings from one to five in this article.
Besides simply providing linens for guests at hotels, businesses in the hospitality industry must also plan for how they will clean their linens. Get the breakdown on top laundry service options today as well as which best suit hotels and motels here.